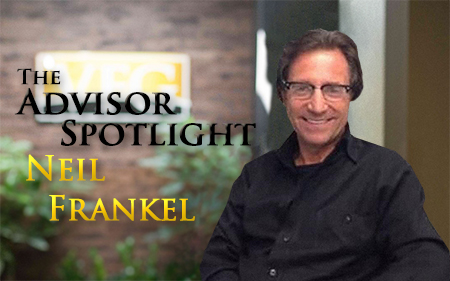 Editor's Note: Each month Vanderbilt Financial Group features an advisor in the Vanderbilt family who exhibits the VFG values of Gratitude, Respect, Innovation, Teamwork and Trust on a consistent basis. These values impact their work with clients and VFG staff, and ultimately pushes for an excellence in their business practices that is unparalleled and incredibly unique. Beyond high-level producers, these advisors offer sage advice and best practices for boosting your business on your terms according to your values. Our first Advisor Spotlight features Neil Frankel.
Give us a little information on your background and what drove you into the financial services industry.
At age 10 I started a paper route and shortly thereafter my entrepreneurial spirit kicked in and I subsequently started a bagel delivery route within my apartment building. I loved the idea of bringing smiles to my neighbors in the form of warm bagels on a Sunday morning. Shortly around that time I started reading the papers and discussing the stock market with my father and eventually began investing my hard earned money in the equity markets. In High School and then later at Hofstra University I began to love mathematics. This propensity to comprehend and enjoy math and accounting while in college is what drove me to declare my major in Accounting and a minor in Finance. I am happy to report that this venture has been a wonderful experience.