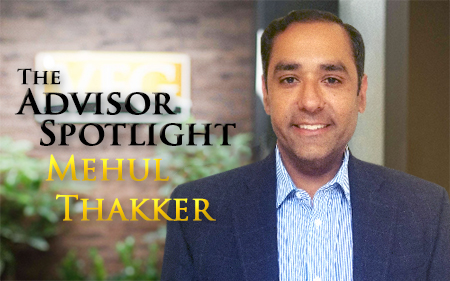 Editor's Note: Each month Vanderbilt Financial Group features an advisor in the Vanderbilt family who exhibits the VFG values of Gratitude, Respect, Innovation, Teamwork and Trust on a consistent basis. These values impact their work with clients and VFG staff, and ultimately pushes for an excellence in their business practices that is unparalleled and incredibly unique. Beyond high-level producers, these advisors offer sage advice and best practices for boosting your business on your terms according to your values. This month's Advisor Spotlight features Mehul Thakker of Empowered Investments.
Give us a little information on your background and what drove you into the financial services industry.
My parents emigrated from India to Chicago in 1965, then to Oklahoma, and later to Odessa,Texas, where I was born. (I like to joke that I'm an Indian and a Cowboy!) My father was a chemical engineer who worked in the oil fields of Oklahoma and Texas, and my mom was a serial entrepreneur who also took care of our home and family. They are tremendous role models for me. My first job was in environmental compliance for a plastics company, which shaped my understanding of how oil is integral to the global economy, and how environmental compliance is equally important. Career-wise, I view myself more as social entrepreneur, who happens to have found my calling in financial services. I originally thought I wanted to be a physician, and studied biology in college, but it wasn't until later that I switched my major to business after picking up my dad's love of investing.
What books, authors or thought-leaders have shaped the way you think? What about currently?
I find inspiration from so many thought leaders. Those who have shaped the way I think would include, peace activists like Mahatma Gandhi and Dr. Martin Luther King, Jr. Dreamers like Don Quixote, by Cervantes. Revolutionaries like Rosa Parks, Huey Newton and Tupac Shakur. Love activists, people who espouse that love is the answer to most problems, like the great Bob Marley.
In my career, two of the biggest influencers in my life have been my mentor, Eric Leenson and the late Peter Camejo, both co-founders of the firm that started my career in ESG and Impact investing. These men were pioneers in the industry, and I'm fortunate to have worked with them.
What do you enjoy most about working in a client-facing role?
I have always wanted to help people and create joy in their lives. When I'm successful in doing my job, and people find joy as a result of our relationship, that is my greatest motivation and reward.
What's the most challenging aspect of working with clients? What are some best practices you employ in overcoming these challenges?
Oftentimes the financial industry is overly prescriptive and tries to generate a one size fits all solution. In reality, that will never be the best solution for a client. The most challenging aspect of working with clients is understanding each clients' individual needs and developing a tailored solution to fit them. I pride myself on being a good listener and being able to understand the details of a client's situation. I always remind myself to slow down, listen, and to focus on the client's essential needs.
What are some of the common misconceptions about our industry that you hear from clients? How do you dispel them?
I think the common misconception is that our industry is a monolith focused on greed. I try to dispel that myth by bringing them into the world of social and impact investing, and by explaining how the financial industry has an important role in making our world a better place.
What are your areas of specialty and why?
Our areas of specialty are ESG (Environmental, Social, Governance) and Impact Investing, Financial Planning, and Shareholder activism. Our goal is to help clients create a holistic view of their money and investments. Once we do that, we create a road map and plan to help maximize their financial success in addition to their social impact.
What is the best advice you've received along the way?
A quote my Dad always says in our native language of Hindi, which comes from the 15th century Indian mystic poet, and saint, Kabir, which goes "Kaal Kare So Aaj Kar, Aaj Kare So Ub. Pal Mein Pralaya Hoyegi, Bahuri Karoge Kub", translating in English to "Tomorrow's work, do today, and today's work now. If the moment is lost, how will the work be done?" I believe this is a beautiful expression of there is no other time than now.
If you could offer a piece of advice to a young Financial Advisor just starting out, what would it be?
Learn as much as you can from everyone that you meet and talk to. But think for yourself and be independent.
Feel free to talk about anything you'd like or that we haven't covered.
I believe in constant improvement and innovation in our practice to benefit our clients. In 2019 our goal is to improve our technology and best in class financial planning software so we can continue to improve and stay up to date with the best technology has to offer.
I'm encouraged by the fact that through our work, Vanderbilt's work and the work of other professionals over the past 40+ years, today we see so many new avenues to invest in socially and environmentally meaningful projects. The capital markets are slowly democratizing; not fully, but it is very encouraging to see through the course of my career that we have gained so many new tools that help us achieve the greatest positive impact possible.