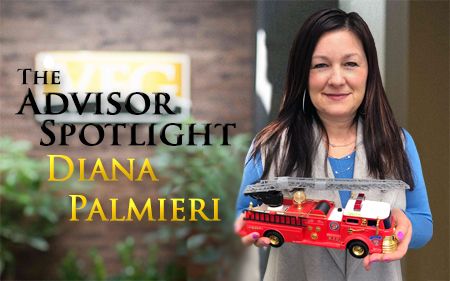 Editor's Note: Each month Vanderbilt Financial Group features an advisor in the Vanderbilt family who exhibits the VFG values of Gratitude, Respect, Innovation, Teamwork and Trust on a consistent basis. These values impact their work with clients and VFG staff, and ultimately pushes for an excellence in their business practices that is unparalleled and incredibly unique. Beyond high-level producers, these advisors offer sage advice and best practices for boosting your business on your terms according to your values. This month's Advisor Spotlight features Diana Palmieri.
Give us a little information on your background and what drove you into the financial services industry.
My beginnings were not easy, they were actually quite difficult. But I was taught how to gain financial independence, and doing things for myself was the only way I was going to get where I wanted to be. I started working when I was 13 and haven't stopped. I stumbled my way into the financial services industry as a sales assistant on a Brokerage floor. There were about 100 stock brokers and I worked my way up from the bottom. It was there that I met my mentor and became a part of his succession plan in the early 2000's. Along the way, I met many people in different fields, many of which I still have friendships with today. I gained extensive Operations and Trading experience which gave me great footing to become an Advisor. I still utilize those skills every day in my practice.
What books, authors or thought-leaders have shaped the way you think? What about currently?
I remember watching Maria Bartiromo (a pioneer in journalism on the market and U.S. economy) on the NYSE floor and thinking to myself "wow, that must be so intimidating" as male traders shoved and pushed around her, not knowing I soon would be in the same place. I looked up to her, seeing a lot of myself in her, and still watch her every day on Fox Business.
Benjamin Graham, who wrote The Intelligent Investor, is and always will be on my bookshelf, I still refer to it regularly. Even as a seasoned investor, I need a reminder as to why investing happens in the first place.
Charles Payne, who came from humble beginnings, has made quite a name for himself and is very inspiring. I receive his W Street Commentary online and read that often.
Daily, I read Barron's and the Wall Street Journal.
What do you enjoy most about working in a client-facing role?
My practice consists mainly of active, injured and retired 9/11 firemen and their families. I also deal with widows of "The Bravest" who died in the line of the duty. I have formed lasting relationships with all of my clients based on trust and compassion. I love to help them, my mentor loved it too, and he saw this in me and passed this wonderful opportunity on to me because he knew I would care for them the same way he did. Money and psychology go hand in hand and there is a certain intimacy there. We are their "money shrinks" as one client told me. Dealing with death and money are not easy things but the lasting relationships I have with these clients is the reason I get up in the morning.
What's the most challenging aspect of working with clients? What are some best practices you employ in overcoming these challenges?
I used to find the ups and downs were a huge challenge for me, I was afraid all the clients would leave. I stepped into this role during a time when financial scandals were prevalent in the news and at the brink of the financial crisis of 2008. People were panicking. I have since trained myself and my clients not to panic, but that's not an easy thing to do. A lot my clients learned hard lessons during the financial crisis, selling when they shouldn't have. I get phone calls today from clients who say "aren't you proud of me? I didn't panic. You taught me to stay calm." I think once they learn the purpose of why they are investing and what they are invested in, things go smoothly. Allocation is key and sometimes you need to be the grown-up in the room to lower their expectations of return. Clients thank me for this all the time, it is up to the advisor to set the bar.
What are some of the common misconceptions about our industry that you hear from clients? How do you dispel them?
The biggest misconception is that we are untrustworthy salespeople out for a buck. There are some bad advisors out there but there are even more good advisors who have their clients' best interests at heart. I truly know I am part of the good advisor group. My clients' comfort and interests are my top priority.
What are your areas of specialty and why?
I have been working with fireman and policemen for over 20 years. That is my specialty. I cover the whole financial picture and they appreciate that. We talk estate planning, pensions, insurance planning, options, college planning and many other topics important to their future and their family's future. I have learned a lot about both the Fire Department and Police Department pension systems along the way. Retirement planning is not one size fits all. I can gather information in our first meeting to get a gauge on their needs. I never push. I give them options and let them make the choices based on what we discussed. I empower them with the information they need to make decisions.
Did you consider yourself a people person?
You need to have a great sense of humor when you're doing financial planning. I think my clients really appreciate that, coupled along with my realism, I don't sugarcoat and I like to keep things plain and simple. I can actually see the physical transformation of a new client go from tense to relaxed once they see what I'm about and we get to know each other. I also keep my fees very competitive. As advisors, we have a lot of competition, so don't kid yourself. Someone can take your client away in a snap and it doesn't take much.
What is the best advice you've received along the way?
Don't take it personally.
You never know what someone is going through or has been through, sometimes you need to take a step back or take a breath. Working in a male dominated environment with mostly male clients has given me very thick skin.
If you could offer a piece of advice to a young Financial Advisor just starting out, what would it be?
It's important to listen, don't talk so much. Your clients need to be educated, but they also need to be heard. People like to talk about themselves, so let them talk. You need to know who and what you're dealing with. Also, treat your back office with the respect they deserve. As someone who has worn many hats in Operations, you catch more flies with honey than vinegar. It's cliché, but it's the truth. These are the folks that are going to get your business processed.
And lastly, you have to give "free time" to get the client. You may not win them over at your first meeting, or even within a year or two. When they call, answer. You may end up getting that rollover when they retire because you answered the call when someone else didn't. I have found this has worked for me time and time again. It has also gotten me many referrals. Relationships are cultivated just like a garden.
The information contained in this blog is for illustrative purposes only, and is not intended to serve as investment or tax planning advice as it does not contend to address the financial objectives, situation, or specific needs of any individual investor. Such recommendations can only be made after personal consultation.
Vanderbilt Financial Group is the marketing name for Vanderbilt Securities, LLC and its affiliates.
Securities offered through Vanderbilt Securities, LLC • Member: FINRA, SIPC • Registered with MSRB
Advisory Services offered through Vanderbilt Advisory Services, LLC