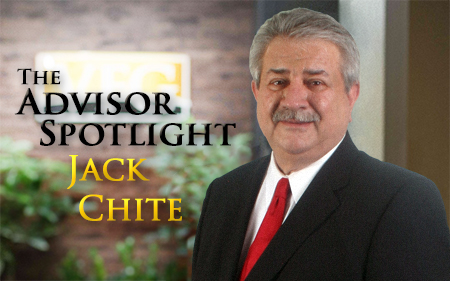 Editor's Note: Each month Vanderbilt Financial Group features an advisor in the Vanderbilt family who exhibits the VFG values of Gratitude, Respect, Innovation, Teamwork and Trust on a consistent basis. These values impact their work with clients and VFG staff, and ultimately pushes for an excellence in their business practices that is unparalleled and incredibly unique. Beyond high-level producers, these advisors offer sage advice and best practices for boosting your business on your terms according to your values. This month's Advisor Spotlight features Jack Chite, President of Vanderbilt Insurance.
Give us a little information on your background and what drove you into the financial services industry.
While I have always been interested in business and financial areas, quite honestly, I didn't have enough capital to open a big business that required a lot up front. I did, however, have a phone, a briefcase and a calculator, so I went into the insurance business. I wasn't thrilled but as I developed more into financial planning (which was something we were doing before there was an actual name for it) I began to plant my roots. I didn't like selling, being a salesman wasn't what I wanted to do, I wanted to help people. As I learned more about securities, taxes, and insurance, I had an arsenal of tools to attack people's problems. I was able to help them. Money always intrigued me. Not necessarily the dollars themselves, but what it did for people and how they viewed it. Maybe it was from not having much of it growing up, but nonetheless, it has always intrigued me.
What books, authors or thought-leaders have shaped the way you think? What about currently?
I have always enjoyed those that are not only informational, but inspirational as well. The list could go on forever, but I'll start with the New Testament, the Bible. Leon Uris who wrote Exodus and Trinity, some really great books that are epic novels describing historic situations. In the finance and business industries, authors Nick Murray and Michael Gerber who are a fantastic influence. I enjoy listening to Tony Robbins as well.
What do you enjoy most about working in a client-facing role?
Working with clients is sort of a ministry - trying to help people solve their problems. It's never the same things twice. It's always a different variation of whatever the theme is. It's satisfying to help people solve their problems, whether it be taxation, investing or protection for their family.
The dynamics that go into all of it is what is interesting to me. You can see over time the changes that were made in a family's situation depending on good or bad planning. Having a plan that someone can follow, like a diet, that works for them and they can live with it and get the end result is worth it. As an example, people will always talk about term vs. whole life insurance or different types of investments, but at the end of the day, when you get a call and the person on the other end of the line says "thanks for helping me put my kid through college", they don't care which product you used to get them there. They followed the plan and they are just thankful to be there.
What's the most challenging aspect of working with clients? What are some best practices you employ in overcoming these challenges?
Some of my best practices would include:
Making sure that you ask the right questions. You don't want to leave things out because you assume that people know what you're talking about.
Understanding that different clients have different learning styles. Some people need to hear it or some need to see it with a visual aid. You need to incorporate different tools to get your idea across. If the client doesn't understand what you're saying, it doesn't really matter what you're saying at all.
What are some of the common misconceptions about our industry that you hear from clients? How do you dispel them?
Most people assume that anyone in financial planning is trying to sell them something. When it's done right, financial planning is a consulting profession, not a selling profession. You have to let people know you are there to hear what they have to say and helped to solve their problems. I am not a believer in a one-meeting-closing. I believe it takes time to understand what the client needs and to design a strategy that will be palatable to each specific circumstance. It might take two or more meetings to make the plan they will be able to follow. It's a longer process but it's better to build the relationship and build trust.
What are your areas of specialty and why?
Pre-retirement and retirement planning are what I do most. I have grown into that with my clients as they have grown and aged. I try to approach each client's plan as if I were building a financial house. The foundation is insurance products. The other rooms might be investments, college planning or opening a business.
What is the best advice you've received along the way?
Always stay in touch with your clients. If you're honest with them, they will be honest with you. It's not just about making a sale and walking away. It's about building a relationship. I have clients that ask me things I would never expect them to ask me, but the trust is there and they value my opinion. Even if it's just to use me as a sounding board - we have that rapport.
If you could offer a piece of advice to a young Financial Advisor just starting out, what would it be?
Learn your craft and absorb as much as you can. Don't be in a rush. Be a sponge and soak in as much information as you can. To do that and still make a living, you need to have a mentor to work with. Offer to help them with whatever you can, even administrative tasks, because you will learn by doing. It's a great business to get into, but it is a more competitive marketplace today than it was in the past which is why it's important to learn as much as you can along the way.
You have to enjoy what you're doing in order to be successful, no matter what the field is. Just as doctors learn a specialty, learn deep down knowledge in a specific area. Become an expert and then find the people who need that knowledge. When you're the expert in that area, market yourself to a specific group and by doing so you will help build a database through referrals and word of mouth. Develop your market niche. A group of people with a common interest can be a built-in marketplace for you.
Anything else you would like to add?
I owe a lot of my success to my love of learning. I have always continued to educate myself and it has paid off. I earned my bachelors in Communications, a Masters in Financial Services and long before it was popular, I earned my Certified Financial Planner certification. Much of what a Financial Planner does is to educate people, and I enjoyed that facet so much I decided to begin teaching at the college level. I previously taught at CW Post and Hofstra University and I serve as the Director of the Financial Planning program at Hofstra. Through my roles in teaching I have met many people and made many connections in this business.