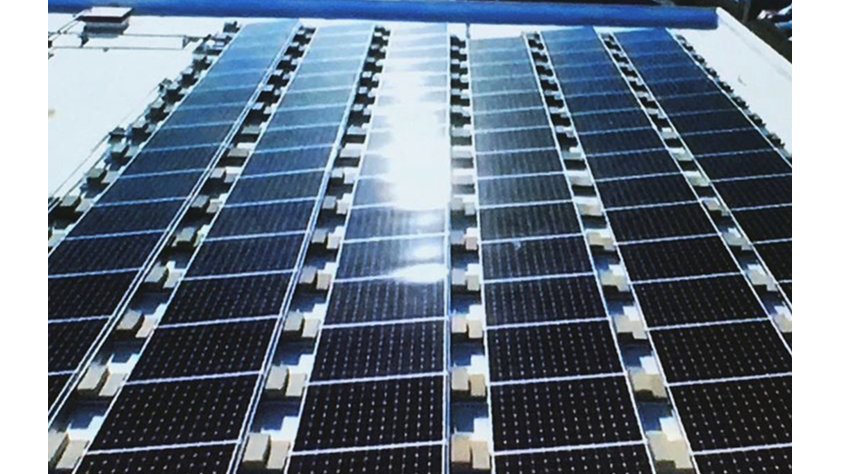 Note from the editor: For Earth Day 2019, the team at VFG is celebrating with a week full of activities and consciousness around what it means to care about the environment. While our wheelhouse is in investments that focus on having a positive impact in the world, we are also a team of people who live our personal lives congruent with our professional ones. This week we'll feature a series of blog posts dedicated to Earth Week.
Earth Week Feature: Becoming a Platinum LEED Certified Building
When Vanderbilt Financial Group started the renovation on our now headquarters, it was decided early in the planning stages to make this a LEED (Leadership for Energy and Environmental Design) project. While we were initially aiming to achieve a LEED Silver certification, the building eventually earned a LEED Platinum Certification, the highest possible certification and a first on Long Island for a commercial building. The building now serves as an example of what other businesses and landlords in the area can do to be both environmentally responsible and employee conscious.
I worked closely with Heidi Distante, our Chief of Staff, who triumphantly led the renovations on our team. It was a fun and interesting process to deep dive into building facilities and focus component by component on what's needed to become LEED certified. Below, I break it down in a brief description of the process we went through. I hope this could be a helpful summary and starting point for anyone wishing to start their own LEED certification application or those just looking to incorporate more environmental and social wellness into their office. This is about a 10-minute read, so settle in or bookmark it for later!

As one might assume, the upfront costs of a LEED or environmental gut renovation can be higher, but the return over the years is significantly worth it and often includes metrics beyond the monetary. From the first day of our renovation, our focus was on environmental efficiency. The demolition began with recycling metal debris, properly disposing of hazardous waste and returning ripped out carpets to a carpet mill to make recycled carpets. (Editor's note: we recently did a blog post on tips for recycling during home renovations, read it here.)

We learned a lot about new environmental standards in office lighting. What was once the "green and efficient" standard of fluorescent lighting actually contains toxic levels of mercury inside of the bulb, leading us to a unique choice of lighting for our space. We replaced all of the fluorescent T-12 fixtures with high efficiency, non-heat generating LED fixtures. The fixtures provide a purer, whiter light, without the fluorescent buzz. The LED's are guaranteed to last 5 years from the factory, yet our consultants expect them to last over 10 years without maintenance in our facilities. Additionally, since they do not create heat, they reduce the heat load on our HVAC for cooling purposes, making it a win-win!

When choosing the new HVAC (Heating Ventilation and Air Conditioning) system, we purposefully selected a system with an outdoor air exchange. What this means: In traditional HVAC systems buildings recycle old air because that air has already been cooled or warmed. However, with our new system the exchange occurs more frequently using an enthalpy control. With a more frequent external air exchange, the air quality is better, causing employees to feel better in the space. Since the efficiency of HVAC units has increased from when older units were installed over 20 years ago, we were able to reduce the size of the units and increase efficiency, thereby reducing energy consumption by up to 50%.

Contrary to what some think, choosing LEED is more about people than it is about the building. One component of LEED is that the majority of employees in the building must have a direct line of sight to the outside, thus affecting the amount of installed glass windows and furniture placement. Areas that would not otherwise have a direct line of sight have natural light harvested from skylights or adjacent rooms with glass panels between them. Furniture, such as desks and cabinets are generally low to avoid blocking light through rooms. Meeting rooms have large glass windows instead of walls keeping the space open and bright. Why does all this matter? Studies have shown that employee proximity to natural light increases engagement, productivity and retention rate. On a very basic level, it's been shown that employees closer to a natural light source show up to work more, decreasing the costs associated with absenteeism.
As Electric Cars are a passion of our CEO Steve Distante, we naturally became the proud recipient of a New York State Energy Research and Development Authority (NYSERDA) grant to increase the number of electric car charging stations in New York. We had 85% funding for two electric car charging stations available for employees for free. (Editor's note: We're partnering with the City of Long Beach and Charge to Work NY on a FREE Electric Vehicle Ride-and-Drive this Sunday! Join us here!

Reducing water by 20% or greater is another requirement for LEED certification. To help meet this goal we have modified our bathrooms to include sensor flush meters and automatic faucets. The materials used to renovate the space such as the paint, adhesives, carpet, etc need to be free of volatile organic compounds, or low VOC. During the painting stage, the paint didn't even stink! Even the carpet glue didn't leave an odor.

All of the materials that we used, including the furniture, must come from within a 500 mile radius from the building. This way an inordinate amount of fuel has not been used to get the materials to the site. Not only is that beneficial for the environment, it is beneficial for America! A LEED building should never buy inexpensive materials from China due to cheap labor and usually lower environmental standards. Several of our finishing touches are made from recycled materials and various pieces of furniture throughout the office have been refurbished with new fabrics to better fit with the new décor.

The construction is just the start, once completed and occupied this is a different building from a cultural perspective. In order for us to maintain our LEED status, we must follow strict guidelines for recycling in the building and having a dumpster on site that gets the recycled materials to facilities where they can be reused and not dumped into landfills. Before we moved, a paper reduction plan was generated, encouraging all to purge, reduce and go paperless with Docupace! We have reduced onside paper storage by 95%. This was achieved through utilization and training of current best practices and technology. Paperless just makes sense from a confidentiality, efficiency and environmental perspective.

One of our biggest feats was the installation of the 295 Solar Panel Array on our white roof. Our solar panels generate about 121 MWh which meets 95% of our yearly energy consumption! This was impressive not only for achieving sustainable and renewable sources of energy but during the Spring and Summer months when the sun is at its strongest in the northern hemisphere, we have generated more energy than we consumed and sold some back to the power company.
In thinking about your own renovation journey, keep in mind that a better work environment, lower energy consumption and reducing landfill is only the first step in going LEED. The surrounding community benefits due to a reduced carbon footprint compared to a business of similar size in the area. Additionally, it is an example of what starts at work can be adopted at home. We are proud to maintain such an ethical and progressive culture as a Vanderbilt Family, dedicated to innovation for the betterment of ourselves and those around us.
To learn more about the process, materials used and to see footage of our completed headquarters, click here.

Author: Michael Rolston
Michael is a graphic designer with Vanderbilt Financial Group specializing website design, creation of a graphic materials and photography.