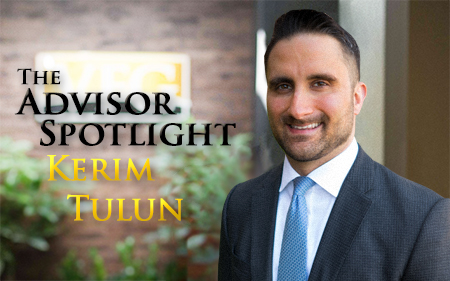 Editor's Note: Each month Vanderbilt Financial Group features an advisor in the Vanderbilt family who exhibits the VFG values of Gratitude, Respect, Innovation, Teamwork and Trust on a consistent basis. These values impact their work with clients and VFG staff, and ultimately pushes for an excellence in their business practices that is unparalleled and incredibly unique. Beyond high-level producers, these advisors offer sage advice and best practices for boosting your business on your terms according to your values. This month's Advisor Spotlight features Kerim Tulun. In addition to his dedication to his clients, Kerim is an active Mentor with Big Brothers Big Sisters of Long Island as a consistent positive influence, supporter and friend in the lives of local children. Further showcasing his devotion to the community in which he lives and works, Kerim is also a member of the Sysosset Woodbury Chamber of Commerce, an organization committed to promoting local business for the betterment of the community.
Give us a little information on your background and what drove you into the financial services industry.
When I was 16 years old, my family went through a period of financial hardship. The patriarch of my family, my father, suddenly passed away. He was an entrepreneur – running a successful international business here in New York and everything he built felt very up in the air. This left our family wondering "What's next?" from an emotional and financial standpoint. The lack of preparedness for this moment led my family to live in fear for many years. This specific moment was a catalyst that grew my curiosity of financial planning and investing, and cultivated my purpose in ensuring the families I serve experience financial stability, freedom, and build generational wealth.
What books, authors or thought-leaders have shaped the way you think? What about currently?
I have gained tremendous insight about the finance industry from Buffet: The Making of an American Capitalist by Roger Lowenstein and The Intelligent Investor by Benjamin Graham. Specific to my own personal success: How to Win Friends and Influence People by Dale Carnegie, The Go Giver by Bob Burg and John David Mann and The 10X Rule by Grant Cardone. And of course, I start everyday with The Wall Street Journal.
What do you enjoy most about working in a client-facing role?
The most rewarding part of financial advising is the impact that you can have on individual lives. Deeply engaging with clients and helping to provide solutions to their issues excites me every single day. A quote from the book I mentioned earlier, The Go Giver, "your true worth is determined by how much more you give in value than you take in a payment," quite accurately depicts how I feel about this role and providing my clients financial security.
What's the most challenging aspect of working with clients? What are some best practices you employ in overcoming these challenges?
The most challenging part can be nervous clients combined with volatile markets. Information is everywhere today and the 24-hour news cycle and media doesn't always help. During these downturns, I make myself available to clients by proactively reaching out by email or phone to help alleviate any anxieties they may be facing.
What are some of the common misconceptions about our industry that you hear from clients? How do you dispel them?
Hollywood movies like "Wolf of Wall Street" and "Boiler Room" can portray a certain image and cast a shadow about our industry. It can be accurate of certain firms and individuals, but my past always pushes me to have the best interest of my clients in mind. I've also found that people now do business with those they know, like, and trust.
What are your areas of specialty and why?
It is my duty and obligation to be a trusted resource for my clients. This led me to earn my Certified Financial Planner designation. The CFP certification has become the recognized standard of excellence for personal financial planning. Aside from managing investment portfolios for my clients, I have knowledge and can advise in other areas such as minimizing income taxes, preserving estates and insurance planning. It's more a more holistic approach.
What is the best advice you've received along the way?
Always put the client first. Put yourself in the client's shoes before you provide them with financial advice. I do this 100% of the time prior to making a recommendation. When you can relate with your clients, understanding their needs as if they were your own, you will build a unique trust.
If you could offer a piece of advice to a young Financial Advisor just starting out, what would it be?
Commit yourself to accessibility and communication. When you are starting out, a lot of your clients my be working with a second, or even third, financial advisor depending on their wealth. Consistently providing exemplary service will earn your clients trust and more of their assets over time. Also, be the most impatient, patient person you know. Be impatient in your day-to-day activities as you're building your book of business, but have long-term patience because it takes time to build a foundation and it's worth it.
Another piece of advice for the advisor just starting out is I would spend a lot of time interviewing your peers who have had success. Continually ask questions and be a sponge. The more you know, the more you'll grow.
---
Vanderbilt Financial Group is an investment firm disrupting traditional finance by focusing on socially and environmentally responsible, ethical, and impactful investments. Vanderbilt is known as "The Sustainable Wealth Management Firm" for our commitment to providing financial advisors and their clients with access to values-aligned investments.
Join our award-winning team: Join Vanderbilt