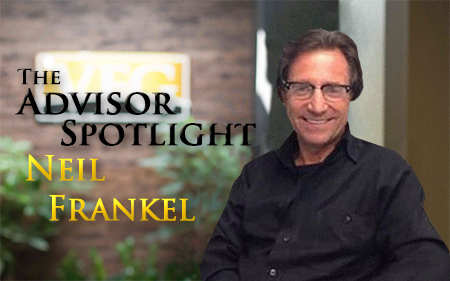 Editor's Note: Each month Vanderbilt Financial Group features an advisor in the Vanderbilt family who exhibits the VFG values of Gratitude, Respect, Innovation, Teamwork and Trust on a consistent basis. These values impact their work with clients and VFG staff, and ultimately pushes for an excellence in their business practices that is unparalleled and incredibly unique. Beyond high-level producers, these advisors offer sage advice and best practices for boosting your business on your terms according to your values. Our first Advisor Spotlight features Neil Frankel.
Give us a little information on your background and what drove you into the financial services industry.
At age 10 I started a paper route and shortly thereafter my entrepreneurial spirit kicked in and I subsequently started a bagel delivery route within my apartment building. I loved the idea of bringing smiles to my neighbors in the form of warm bagels on a Sunday morning. Shortly around that time I started reading the papers and discussing the stock market with my father and eventually began investing my hard earned money in the equity markets. In High School and then later at Hofstra University I began to love mathematics. This propensity to comprehend and enjoy math and accounting while in college is what drove me to declare my major in Accounting and a minor in Finance. I am happy to report that this venture has been a wonderful experience.
What books, authors or thought-leaders have shaped the way you think? What about currently?
Reading the New York Times and The Wall Street Journal is what I believe shaped my interest in Finance. I'm currently reading "20 Toxic Credit Mistakes" by Daniel Sater. I also enjoy reading Kiplinger's Financial Advisor Journal and Kiplinger's Tax Letter.
What do you enjoy most about working in a client-facing role?
There is no greater joy that I receive, than helping other people. I truly believe I was put on this earth to help others. That said, Finance can create quite a bit of anxiety, especially pertaining to retirement, will planning, 401k's, 403b's, etc. This is a Financial anxiety that I have been able to alleviate for my clients. However, I have educated my clients, so that they don't have to feel nervous and anxious about their investments. As an example, during the market correction in late 2018, I received only a handful of calls from anxious clients. My clients can call me at any time as I make myself available 24/7 to ease their worries. I pride myself in making clients comfortable. It's like a therapy practice in addition to financial planning. Throughout the years, I have become an expert in financial therapy.
What's the most challenging aspect of working with clients? What are some best practices you employ in overcoming these challenges?
Nervous markets and nervous clients would be the most challenging aspect of working with my book of business. I have a pretty mature practice and in 99% of instances I can alleviate their fears and anxieties triggered from outside sources. One of my best practices is to remind clients not to look at the equity markets daily and to take a long term approach to investing. The ups and downs of the day-to-day fluctuations predicated on the past will not affect long term investors.
What are some of the common misconceptions about our industry that you hear from clients? How do you dispel them?
The most common misconception is that we are a bunch of used car salesmen just trying to make a buck and move on to the next client. This could be true of certain advisors, but I always have the best interest of my clients in mind. In a nervous equity market, I will stay more in touch with them, answer their emails expeditiously, and invite face to face meetings. In this manner, I will try and alleviate misconceptions they receive from the media or other outside sources of information. I don't fight fire with fire. I however, fight misconceptions with rational pragmatic thoughts.
What are your areas of specialty and why?
I wear two hats. My father told me long ago not to wear more than two hats because you can't be an expert at too many things - and he was right. My tax hat is my tax expertise, and my financial hat is giving financial advice and managing assets. I don't want to ever make clients feel uncomfortable or come across as pushy. If clients say I will think about or sleep on it, I will give them time. If they decide it is not the right time to proceed I simply thank them for their time. I never want to make clients invest if they are not entirely comfortable. I give them my recommendations, but if it's not the right timing we'll come back to it when they are ready. Clients are the key to my success, and the key with clients is to make them feel comfortable with me and the products I offer so that my business remains successful.
What is the best advice you've received along the way?
Focus on the client's needs and don't be greedy. Be attentive to the client's desires and needs and take a lot of time to explain and re-explain products. For example, an annuity product has so many moving parts that if you don't re-explain it to a client at least once a year they are going to miss out on something. It is very important to me to make sure that my clients understand what they own. If my intuition tells me that they do not understand something I say, I will always say, "let's go over it again". I have learned from other people and I continue to learn from other people. I probably have 200-300 business acquaintances in the financial planning business. I often meet with them where we go over ideas and strategize. I want to continue learning so that I can continue to educate my clients.
If you could offer a piece of advice to a young Financial Advisor just starting out, what would it be?
I wish I would have pushed more people to buy disability insurance as I currently have quite a few clients collecting disability insurance income. My motto with this product is that you can not afford not to have disability insurance. I would also advise them that I don't believe this is a luck business. It's a business where you need to know your products, clients, and you need to know financial therapy.
Do you consider yourself a people person?
I'm an over-the-top people person. I love spending time with people, learning about their families, hobbies, interests, not because I want to sell them anything, but because I really enjoy people. This has been the case for 38 years and it remains so now more than ever.
Feel free to talk about anything you'd like or that we haven't covered.
I want to mention that I meet with other brokers often and occasionally find out that they are selling products within a high commission band which I don't believe is in the best interest of the client. In my honest opinion, it only creates an impetus to sell the client a new product regardless of need. My best advice for new brokers is "Don't pick the highest commission", FINRA doesn't like it, and it doesn't put you in the right frame of mind to physiologically service the client in the correct manner.
The information contained in this blog is for illustrative purposes only, and is not intended to serve as investment or tax planning advice as it does not contend to address the financial objectives, situation, or specific needs of any individual investor. Such recommendations can only be made after personal consultation.
Vanderbilt Financial Group is the marketing name for Vanderbilt Securities, LLC and its affiliates.
Securities offered through Vanderbilt Securities, LLC • Member: FINRA, SIPC • Registered with MSRB
Advisory Services offered through Vanderbilt Advisory Services, LLC