A new study found that almost all Financial Advisors use social media to market themselves, but with compliance constraints weighing in, many advisors find themselves unable to post meaningful content.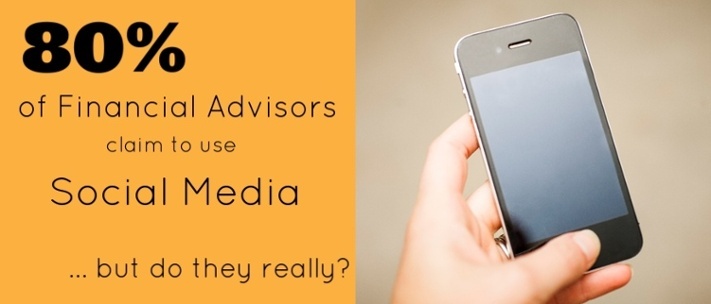 The Study
Putnam Investments in Boston released a Social Advisor Study which surveyed 800 Advisors on their use of social media. The study found that there is a significant movement toward more social network usage as well as more success. There was a time when social media seemed inappropriate for business as it was thought of as "personal".
Then came Linkedin, and the social media for business trend emerged. While we know Linkedin is arguably still the most popular social network for business, it is not the only one— especially for Financial Advisors.
The numbers don't lie
Having a strong web presence is a now a statistically proven way to gain business as a Financial Advisor. The study found that in just the course of one year, there were substantial increases in marketing efforts on social media by Financial Advisors.
2015

2014

81% of Financial Advisors use social Media

40%

of Financial Advisors use 4 or more social media sites to promote their business

Last year only

25%

used 4 or more social networks

79% of the Advisors surveyed reported acquiring new clients through their social media presence

Last year only 66% of Advisors acquired new clients from their social media networks

69% of Advisors believe that their social media presence played a huge role in their marketing

56% thought social media had a significant impact on their marketing

The average increase in assets gained through social media marketing is

$1.9 million

$1.2 million

was the total median average of asset increase due to marketing on social media networks.
Still not convinced?
Here's some more reasons:
Buying habits have changed. Marketers and sales people no longer reach out to customers to inform them about their company's services; now people do their own research online and choose companies for themselves.There is no difference with Financial Advising. Your potential clients now have all the tools they need to do research online when shopping for a new Advisor.
A whopping

48%

of millennials say social media influences them to buy over any other mode of marketing, and

63%

say they monitor brands on social media. (Ipsos)
Google announced this year that it would decrease web ranking for sites that were not mobile optimized.
By 2020, 86 million millennials will make up 40% of the workforce.
With millennials becoming the largest majority in the market place, it is time to start speaking their language.
Extend Your Social Horizons
Linkedin is no longer the one and only social network for business. Twitter, Facebook, and Instagram are also hugely significant sites for web presence and social marketing. Though these round out the big four, the list doesn't end there; YouTube, Google +, Yammer, and many more can also be very helpful to Financial Advisors looking to attract new clients.
If someone is shopping for a new Advisor, chances are they will "Like" a few social pages and monitor what types of updates and articles the Advisors post. Something as simple as providing helpful information in a Facebook post, or sharing an interesting article on Twitter can be the determining factor in standing out to potential clients.
Utilize social media to broaden you clients base. Do some research about which social sites your current clients use and think about what sites your ideal prospective clients use- they may not be the same thing. Realizing what type of marketing your clients and prospective clients respond to will surely boost your business.
The best thing about marketing on Social Media, is that at it's most basic level it is free. Of course you can pay for ads, join exclusive subscriptions, or hire someone to maintain your pages for you, but because the sites are free, you have an added benefit of experimenting and marketing to different clients in different ways which makes for an overall more personalized and dynamic experience than the mass email ways of marketing in the past.
Is your content meaningful?
81% is a huge majority- we can't argue that. But with strict compliance guidelines, are we really posting to our greatest potential?
In many cases, Advisors are unable to post meaningful content because their Compliance Department is unable to think outside of the box. Being too careful about content can limit the effectiveness of an Advisor's social media marketing campaigns.
Compliance often sees social media as a potential liability as it is an open line of communication to the public. Or perhaps, Compliance isn't so keen on social media pages because it is one more thing to monitor. In this case, there are services that can help by archiving social media content, like Smarsh.
Think how useful your social pages could be if you were not limited by compliance guidelines. While the Putnam Investors Study shows impressive momentum, it does not account for what's allowed to be posted.
Do you feel you business is limited by compliance on your social media networks? Take our short survey and tell us how you feel!
---
About Vanderbilt Financial Group: Founded in 1965 and located in Woodbury, NY, Vanderbilt Financial Group is an Independent Broker Dealer known as the Sustainable Broker Dealer committed to investing with purpose. The firm offers Impact Investments in socially and/or environmentally responsible, ethical, and impactful opportunities. In 2014 the firm was recognized with the MAP Vital Factors Solutions® Presidential Award for achieving excellence through implementing the MAP Management System™ and in 2015 became the first LEED Platinum office building on Long Island. Vanderbilt's refreshing, unique, and innovative culture is a driving force to constantly strive to positively impact their community. To learn more, check out http://joinvanderbilt.com/.