It's no secret that Impact Investing has been gaining popularity (we certainly talk about it a lot) . As more and more financial advisors become curious, we've found many are surprised to learn of the various ways to invest impactfully, perhaps most notably through Green Bonds.
We think this recent Bloomberg article says it all. The article shows huge growth in Green Bonds over the past decade – to call it impressive would be an understatement. Here is their report:
---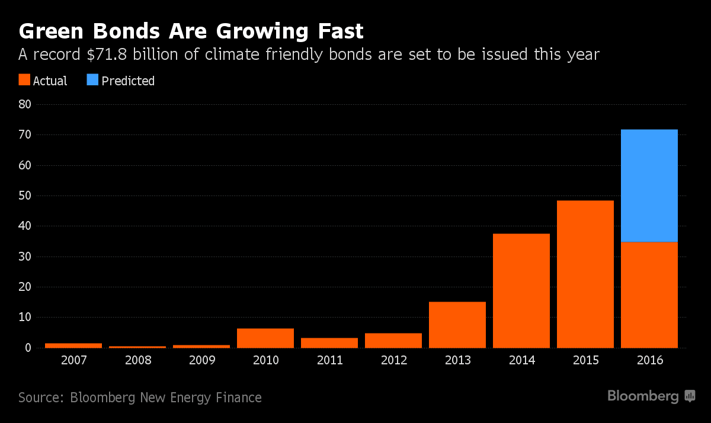 ---
As you can clearly see, between 2012 and 2016 alone, this market exploded by an increase of $39 billion. If their prediction is accurate, we will see somewhere near $71.8 billion dollars in ESG screened fixed-income investments this year.
Since 2004, Bloomberg New Energy Finance has been innovative thought-leaders with a clear focus on the clean energy industry. Clean energy and innovative technology are both markets well positioned for tremendous growth – and both possess many impactful opportunities.
We encourage financial advisors who have not embraced impact investing just yet to reconsider this investment strategy. Not only could this build your relationships with your clients and take your business to new heights, but your efforts in business would also benefit our environment and society.
---
This content is property of Vanderbilt Financial Group and is not to be duplicated or redistributed without prior written consent. Not an offer, recommendation or solicitation to buy or sell. Further Information is available upon request.
About Vanderbilt Financial Group: Founded over 50 years ago in 1965 and located in Woodbury, NY, Vanderbilt Financial Group is the Entrepreneurial Broker Dealer known as the Sustainable Broker Dealer and RIA committed to investing with purpose. Vanderbilt is a full service Broker Dealer and Advisory firm with a focus on Impact Investing. Vanderbilt's refreshing, unique, and innovative culture is a driving force to constantly strive to positively impact their community.