In last week's Advisor Advice blog, "Reasons to Leave Your Wirehouse," we shared some of the benefits of leaving a wirehouse and joining and Independent Broker Dealer. Being independent frees you up since you no longer have a sales manager or quota sitting on top of you. Having all this newfound freedom can be scary as you need to learn to manage yourself.
---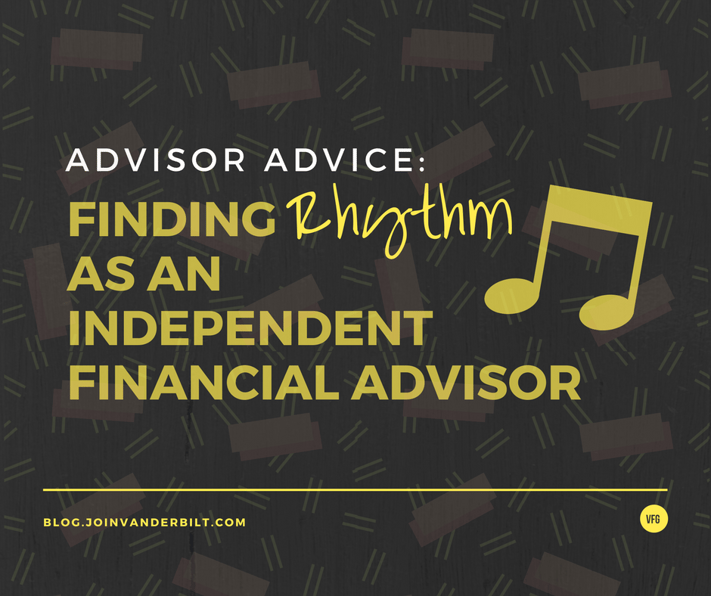 ---
You are no longer accountable to your sales manager; you're now accountable to your clients. Maintaining a consistent and responsible method of business is up to you.
Some advisors find this freedom intimidating, scary, or lonely. Our advisors share some tips on how they found their rhythm (and success) when they became independent.
1. Have a Routine
At the wirehouse, you were likely expected to follow mandatory practices and procedures each day. As limiting or restrictive as that may have felt, it was a basic routine to follow. Each day, you knew what was expected of you and how to get there.
When you're independent you have the freedom to do whatever you please each day, but for many, establishing a daily routine is the first step in meeting your goals and expectations.
Advisor Story:

One of our advisors practices a unique routine following a point system he created for himself. Daily tasks and goals are assigned different values, and at the end of the day, he can assess his own productivity by adding up the points.
2. ABL: Always Be Learning
Our advisors spoke positively of the basic education they received at their old firms. Wirehouses typically have a curriculum that helps advisors learn the "what" - 'What is the difference between an ETF and a mutual fund?', 'What is a 11B 1 Fee?', etc.
But what they realized is that they didn't learn was the "how"- 'How do I find a niche market?', "How do I handle clients who are going through a divorce?"
A basic education is absolutely necessary to an advisor, but real shared experiences from fellow advisors about how to actually build business in real life is priceless.
Relationships and strategy are fundamental to the success of an independent advisor. Smaller BDs can facilitate practical seminars, workshops, and idea-sharing opportunities based on strategy and real experience in ways a wirehouse can't. So participate in advisor workshops and seminars, learn from more experienced peers, and build a practical strategy that works for you.
3. Dress for Success, Not to Impress
At a wirehouse, you're required to wear a suit and tie. Being independent means you can dress how you feel most comfortable. Many advisors have clients who are blue collar workers, families, or small business owners who are often dressed casually. In many cases, meetings with clients can be more successful when everyone in the room is comfortable. It may seem silly, but many clients are uncomfortable, nervous or skeptical when it comes to finances and a small change like this really can benefit a client/advisor relationship.
The Bottom Line - Be Yourself
All these tips can help you to become more comfortable with new independence. The easiest way to find your rhythm is to be yourself, find your own routine, make custom strategies that work for you, and be comfortable in your independent role.
Going out on your own can be a big change, but remember, with a good independent broker dealer behind you, you're never alone. An independent broker dealer gives customizable and individual support, boundless opportunities, and the open architecture to succeed and the freedom to attain your goals while being yourself.
---
This content is property of Vanderbilt Financial Group and is not to be duplicated or redistributed without prior written consent. Not an offer, recommendation or solicitation to buy or sell. Further Information is available upon request.
About Vanderbilt Financial Group: Founded over 50 years ago in 1965 and located in Woodbury, NY, Vanderbilt Financial Group is the Entrepreneurial Broker Dealer known as the Sustainable Broker Dealer and RIA committed to investing with purpose. Vanderbilt is a full service Broker Dealer and Advisory firm with a focus on Impact Investing. Vanderbilt's refreshing, unique, and innovative culture is a driving force to constantly strive to positively impact their community.