2016 was a year full of surprises that caused Financial Advisors to feel a wide variety of emotions. To many, the unpredictable nature of 2016 conjured up many negative feelings of fear or dread in regards to the markets and our collective financial future. But as of late it seems the majority of 2016's fears and downturns are being overcome.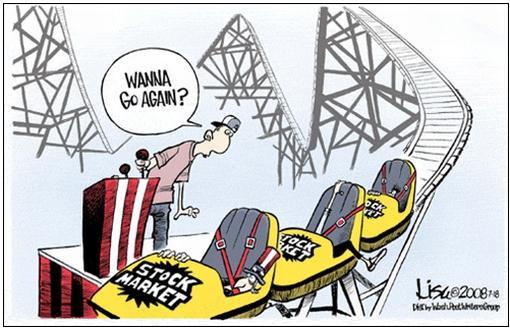 Photo Credit: Lisa Benson, Slate
Here's a look back at some of the biggest moments of 2016:
Fed Raises Rates Again
After the Fed raised rates last in December of 2015 for the first time since 2006, it was thought they'd raise rates again this year several times. For context, the last rate hike before last year was 2006. The fact that they finally raised rates was big, especially since many financial professionals had never even seen it happen before in their careers. But in January, the market fell off a cliff on the back of fears over oil possibly heading to single digit prices followed by a slew of events that kept investors skittish, even as the market rebounded (not least of which was Brexit), so the Fed kept declining to raise rates.
However, this December (2016), they did raise rates again, and while this came to be widely expected for a few months prior, there was a good portion of time in 2016 when this seemed all but certain not to happen for many, many years – just another example of 2016's unpredictability.
The DOL Fiduciary Rule
There was a time where we all anxiously awaited the final call on the DOL Fiduciary Rule. Decision made, announcement out and yet we are still in the same DOL limbo we have been in all year. However, major details have come to life in recent months that may partially or completely change the landscape for the DOL Rule.
At Vanderbilt, we've been so focused on monitoring the DOL that we've created a blog series dedicated to educating Financial Advisors about the rule and all the options available to them.
At this post-election point in time, it seems that the rule will be delayed. Revisions or revocation are near-impossible options to be completed prior to April 10, 2017. Many hoped that Trump would throw away the rule immediately after his inauguration, but a delay is the most logical initial procedure to that end-point.
Brexit
June was especially exciting after the unexpected result of the British Exit referendum where the majority of British citizens decided to leave the European Union causing the British pound to fall to lower than it has in decades.
There are still a lot of Brexit questions we don't have answers to. Will Brexit actually happen? When? How?
The vote was really just a poll of the public, and it's up to the House of Commons (the lower house of the bicameral British Parliament) to act on that. They probably will, but there's some speculation that they won't. The Prime Minister, Theresa May, needs to the invoke Article 50 of the treaty that created the EU, which begins the exit proceedings.
But the real issue, the one that impacts advisors and firms, is what an exit will look like. Will the UK ink new deals with all its current trade partners, or will some decline? Surely they'll have less access to the European common market, but how much less? And how will Trump's policies impact the UK's hopes of a deal with the US? These are the questions that need answering and that are a source of uncertainty.
Election
We all knew November would be a crazy month. After seemingly endless political commentary and analysis predicting the opposite, Donald Trump surprised many pundits by being elected on November 8th. In the weeks that followed, markets displayed an extremely positive reaction.
20k Watch
As the year pulled to a close, December proved to be exciting as all eyes watched the Dow strive to hit the 20,000. It has lingered just under the mark, teasing us for weeks – an appropriate end to a roller coaster year.
The Lesson
In this year of extreme uncertainty, unexpectedness, and unpredictability we've learned a simple lesson – the importance of long term planning. Long term planning provides protection and comfort in such indecisive markets.
2017 – What's Next?
Honestly, who knows where we will be by the end of 2017. The Dow hit 5,000 in 1995, 10,000 in 1999. It came so close to 15,000 in 2007, closing at an all-time high on Oct. 9th of 14,164.53, then dropping back to 6,547.05 on March 9, 2009. It went back to 10,000 again in November, 2009, hit 15,000 in May of 2013 and no one knows if or when 20,000 will be attained. Is there a point at which it can never go higher? There are television and radio pundits galore who argue both sides of that issue. Who knows if the post-electoral bliss is really about the pending dissolution of the DOL's Rule? What do you think?