Each month Vanderbilt Financial Group will be featuring a member of the Team in the Vanderbilt family who exhibits the VFG values of Gratitude, Respect, Innovation, Teamwork and Trust on a consistent basis. These values impact their relationship with their co-workers and Reps and ultimately pushes for an excellence that is unparalleled and incredibly unique.

Can you please give us a little information on your background, and why you chose a career in the financial services industry?
I was a bank salesperson for 20 years before my role at Vanderbilt of 20 years. I used to receive commissions, now I pay them.
What are your favorite books and authors? How did they shape your thoughts when you first read their books and how do they continue to shape them?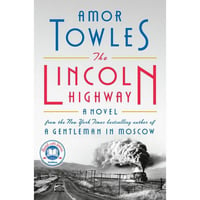 I often have a book in my face. I am not much of a TV person. In fact, when everyone here in the office talk TV, I have no idea who or what they are talking about.
I like variety, I have no favorite authors or genres. I can't say that books shape me. I escape or gain knowledge from them, but I am who I am. I am currently reading The Lincoln Highway, next up is The
Sweetness of Water.
What would you say is your favorite part of working at Vanderbilt?
My favorite part of Vanderbilt is absolutely 100% the people I work with. They are my second family, my second, kooky, crazy, loud and extremely entertaining family.
What are you interests outside of work?
My life outside Vanderbilt is probably not what you would expect.
My husband, my son and I have beehives. We have a lot of beehives. My son even has a honey company, Buckabee Honey.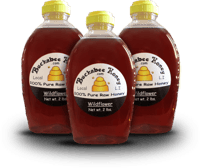 Every fall we live like gypsies, going from one outdoor festival to the next, selling jars of wonderful, amber-colored sweetness. We set up our tent in the morning and break it down in the evening and then do it again the next day. Gypsies, minus the bells and scarves…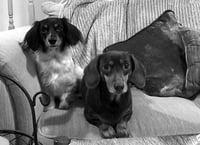 I also love to escape to our house in the country. My family and I are quite at home in the back woods. We like hiking, riding quads, fishing, and completely absorbing ourselves in the beauty and wildlife that surrounds us.
And then there are two silly little dachshunds whom I just love to pieces.
If you could meet one famous person, past or present, who would it be and why?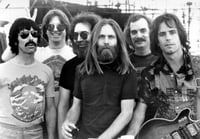 I guess I am your typical deadhead. My one famous person would have to be Jerry. Just to sit back and listen to Jerry. Listen to Stella Blue and cry and Ripple to be inspired. "Inspiration, move me brightly…"
I hope you enjoyed my Spotlight. I would like to leave you with this….
Please shop local and support your local farmers and beekeepers!
FOR INTERNAL USE ONLY - NOT TO BE SHARED WITH PUBLIC
Vanderbilt Financial Group is the marketing name for Vanderbilt Securities, LLC and its affiliates.
Securities offered through Vanderbilt Securities, LLC. Member FINRA, SIPC. Registered with MSRB.
Clearing agent: Fidelity Clearing & Custody Solutions
Advisory Services offered through Vanderbilt Advisory Services & Consolidated Portfolio Review. Clearing agents: Fidelity
Clearing & Custody Solutions, Charles Schwab & TD Ameritrade
Supervising Office: 125 Froehlich Farm Blvd, Woodbury, NY 11797 • 631-845-5100
For additional information on services, disclosures, fees, and conflicts of interest, please visit www.vanderbiltfg.com/disclosures