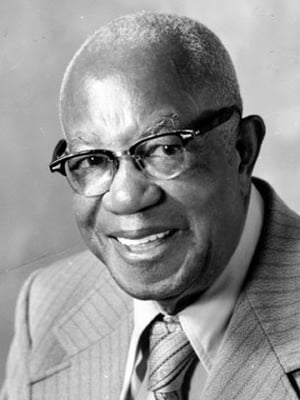 Socially responsible businesses are not new concepts. For centuries, people have been using their businesses and investments to engage and better their communities and their environments. We saw this on a local level through examples such as corporate-sponsored community health programs.
On a global scale, we saw the impact of large U.S. banks and corporations divesting from South Africa until apartheid was successfully ended. However, as the market for impact investing evolves and becomes more popularized, we look more and more into investing in companies that are concerned with the triple bottom line – how they are impacting people (socially), the planet (environmentally) and the profits of a business.
As we reflect this February on Black History Month, we honor and celebrate those in our industry who pushed forward the agenda of socially responsible businesses and investments.
Who was Arthur George Gaston, the socially responsible "Black Titan"?
Arthur George Gaston (July 4, 1892 - January 19, 1996), or A.G. Gaston as he was known, lived for over a century building some of the most successful African American businesses of his time. He then used those businesses to fight for the integration of Birmingham, Alabama during the Civil Rights Movement in America.
Humble Beginnings
Gaston, a grandson of slaves, developed an entrepreneurial spirit early on in his life.
During grade school, he started charging other kid's buttons (a common currency for children in that day) for playing with his family's beautiful swing that they had in their front yard. Seeing his potential, his mother Rosie Gaston sent Gaston to the nationally renowned Tuggle Institute, a local boarding school offering free education to black students of Birmingham.
After earning his certificate from the Tuggle Institute, Gaston joined the U.S. Army during World War I. While serving in France, Gaston was able to live more freely in Europe. In his letters home, he described the feeling of not having to walk off the sidewalk when a white man passed. The French government awarded black American soldiers for their bravery throughout the war yet, in sharp contrast, President Wilson banned any black soldiers from participating in the international victory parade in Paris.
When Gaston returned home after finishing his seven-year duty with the U.S. army, he struggled to find work. His entrepreneurial spirit once again kicked in. He landed a job working at a coal mine and started selling lunches his mother made to his co-workers. Through this side-hustle, Gaston started earning as much as $20 a day (around $311 in 1930) in addition to his mine wages. This successful first venture allowed him to raise enough capital to start a small community loan business and begin solidifying his place in the business world.
Venturing Out
Successful ventures marked the next thirty years for Gaston. He found the Burial Society, in which he collected overtime payment from families willing to pay $100 for a proper funeral of their family but couldn't afford the upfront costs. The company grew and began advertising through sponsoring the tours of gospel singers, concerts, and "Negro" radio programs across the country. In 1938, Gaston and his father in law purchased a $50,000 ($920,771 today) white-owned house in downtown Birmingham as the base of the funeral home, lifting their business to the status of a prosperous icon.
By 1941, the Booker T. Washington Insurance Company, a successor to the Burial Society, was insuring over 33,000 Alabama blacks, collecting $155,000 in premiums, and had $6 million in the business. He used this burgeoning financial success to found a black college, an investment firm, and several real estate companies, all of which were successful. Recognizing a demand for accommodation for blacks in Birmingham, he opened A. G. Gaston Motel and restaurant in downtown Birmingham in 1954. The motel became the headquarters for Martin Luther King, Jr., and other leading black activists from the Southern Christian Leadership Council (SCLC).
Commitment to Social Impact
Even though Gaston had a rocky relationship with King and the activists, he supported them with resources and even bailed King and other protestors out of jail. Their relationship, however, turned sour at the nationally notorious 1962 Easter March. King and the children of Birmingham marched through the street to protest. Gaston was strongly opposed to the use of children. At the event, hundreds of marchers, including small children, were attacked by fire hoses and jailed. Gaston was enraged and strived for peaceful solutions, which lead him to establish the A. G. Gaston Boys and Girls Club, a youth service non-profit organization for the Birmingham and Bessemer neighborhood, which is still operating today.
In 1987, as proof of his goodwill and concern for his employees, he sold his empire Booker T. Washington Insurance Company through an Employee Stock Ownership Program (ESOP), giving his workers ownership interest in the company. Through the ESOP, Gaston's 350 employees only paid $3.5M for a company that was valued at $35M at the time. "I could have sold it for a lot more. But I couldn't see throwing them out of jobs. They helped me build this thing." said Gaston in Money Magazine.
A karmic return postulates what you get out of life is what you put into it. Gaston contributed a lot to the betterment of Birmingham and the black community, serving on the boards of various notable organizations and creating strong career opportunities through his business ventures. In 1996, Gaston died at the age of 103 but his legacy and passion for Impactful Entrepreneurship will live on.
---

Moira Mai Do is the Digital Marketing Specialist at Vanderbilt Financial Group. She is interested in innovations in AI, Machine Learning, and Impact Entrepreneurship, especially in business/venture that propels climate actions. She holds a BA in Strategic Communications from Temple University.