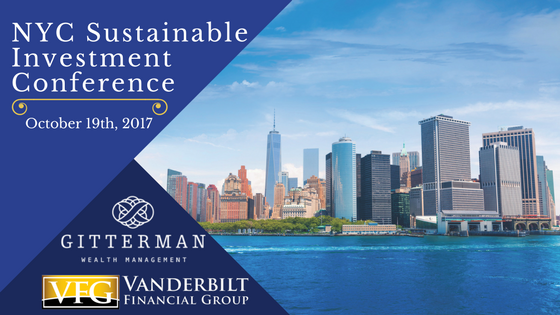 ---
We're excited to be co-sponsoring the NYC Sustainable Investment Conference which will be held next Thursday. Gitterman Wealth Management chose Vanderbilt Financial Group as their new Broker Dealer this past summer, and we couldn't be happier to participate n this event, which is so well aligned with our mission as the Sustainable Broker Dealer.
This event aims to provide a comprehensive day of educational and inspiring content that will help financial advisors to incorporate impact investing into their practice. According the 2016 USSIF Foundation Research of the $40.3 trillion in assets under management in the United States, $8.72 trillion are considered SRI assets. This market is growing so quickly that it can no longer be ignored. This event will focus on giving practical strategies that can be implemented easily in order to adopt impact investing into any practice.
The conference's impressive line-up of speakers will share experiences and research from a variety of angles. Panels will include speakers from such leading companies as Arabesque, Bloomberg, Morningstar, MSCI, Thomas Reuters, and more. We will explore topics like: understanding how ESG data is gathered and curated, learning how to integrate data into your strategy, client acquisition and marketing with an ESG focus, and much more.
Both Gitterman Wealth Management Founder, Jeffrey Gitterman, and Vanderbilt Financial Group CEO, Steve Distante express their passion for, and belief in, this movement by putting on this event. To learn more about Jeff and Steve's passions for impact, check out our recent blog post, A Story of Two Impact 'Aha! Moments.'
Through our impact investing blog series, events like this Sustainable Investment Conference, and our online community Impact U, we're dedicated to creating and promoting educational content that will spread the impact investing movement and stimulate even more growth and positive change.
Click here for more information on the conference.