"We have a responsibility as a society to focus our investments on the future."
- Mark Zuckerberg, December 1, 2015
By this point you've probably heard about the December 1st announcement made by Facebook CEO, Mark Zuckerberg and his wife Dr. Priscilla Chan, that they will be donating 99% of their wealth – Facebook shares currently valued at $45 billion – to the Chan Zuckerberg Initiative. Interestingly, the initiative is set up as a "philanthropy" not a "charity". The decision to create a limited-liability company rather than a foundation will allow for compounding profitable growth that can sustain opportunities to fund projects that align with their mission.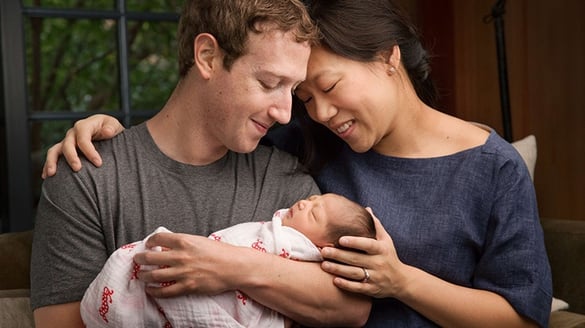 Priscilla Chan and Mark Zuckerberg with their daughter, Max. Photo via Mark Zuckerberg on Facebook.
While it is not mentioned specifically in the letter, when reading this, we can't help but think of Impact Investing. Impact Investing is defined as investments made with the intent to generate a social, environmental, and/or governmental impact alongside fiscal returns. Vanderbilt Financial Group, is an early adopter of impact investing for a simple reason – it's the right thing to do. The ideas behind impact investing are deeply aligned with our core values as a company. Therefore, Vanderbilt Financial Group IS an Impact Organization because we encourage our financial advisors to adopt impact investing into their practices. We define Impact Organization as a company whose ultimate goals are aligned with the intention to bring about positive social, environmental, or governmental change through their business. In other words, a company who makes all business decisions with the good in mind.
Zuckerberg and Chan posted this announcement on Facebook in a letter to their newborn daughter Max on December 1st, 2015. The letter beautifully outlines why the couple has decided to donate this money – to create a better world for their daughter's generation to live in. In the letter, they describe their mission is to, "advance human potential and promote equality in areas such as health, education, scientific research, and energy." The details outlined in the letter make us believe that the Chan Zuckerberg Initiative is also an impact organization.
We commend the Chan Zuckerberg Initiative and are excited to see what they have in store. This letter is a perfect model of how a for-profit company can become an Impact Organization. We include here a few of our favorite quotes seen through an impact investing lens.
First, The Reason Why
Before we really dive in to our favorite quotes, let's look at the main reason for the letter, the Chan Zuckerberg Initiative and Impact Investing in general:
"We have a moral responsibility to all children in the next generation…We believe all lives have equal value, and that includes the many more people who will live in future generations than live today. Our society has an obligation to invest now to improve the lives of all those coming into this world, not just those already here."
This is really the core of the ideology behind impact investing. The reason behind making investments in long term initiatives that will in some way better the future is clearly for the benefit of the future and future generations.
Now for Our Favorite Quotes
1

.

"We collectively have a responsibility to tilt our investments a bit more towards the future to make this reality."
This is an idea that can be difficult to convey to some clients but easily adopted for others. While impact investing may be a new idea which could feel risky, in most cases impact investments are no more risky than traditional investments. While some older clients with established portfolios may be wary to jump into this new arena, most Millennial and Gen X clients are dying to do so. As an advisor, you're empowered to help your clients find the investments that are right for them. Explaining what impact investing is and how it can benefit a portfolio while also mirroring the client's values and passions can be a great way to connect with your clients and suggest sustainable, long term investment opportunities with the good in mind.
2. "If our generation makes the right investments, the answer to each of these questions can be yes—and hopefully within your lifetime"
In the letter, Zuckerberg poses questions about what this generation can achieve. He asks if we can eradicate disease, connect the world, increase learning, live longer, protect the environment, cultivate entrepreneurship, promote quality, eliminate poverty and hunger, and empower all people. Zuckerberg says the answer to all these "can-we questions" can be "yes" if we make the right investments now. We agree. Now is the time to realize that we can fix these issues and it is our responsibility as advisors to educate and empower our clients to make the "right investments" to which Zuckerberg refers.
3. "By starting at a young age, we hope to see compounding benefits throughout our lives…We must make long term investments over 25, 50 or even 100 years."
There's no time to waste. Today, young investors can expect so much more than just a fiscal return. They realize they are investing in their own long term future, their world. Their investments can make a cleaner environment, safer future, and an advanced society over time.
4. "This mission – advancing human potential and promoting equality — will require a new approach for all working towards these goals."
"We must take risks today to learn lessons for tomorrow. We're early in our learning and many things we try won't work, but we'll listen and learn and keep improving."
"You'll explore topics that aren't even offered in schools today."
These quotes really ring true for Impact Investing because it is a type of "new approach" that can solve the problems they outline. Because it is a new approach, there is a lot to learn. Vanderbilt is an early adopter of impact, but in order to grow and thrive we must take risks and learn so that we can create a long term, sustainable investment plan with the good in mind. As we embark on this impact investing journey we continue to learn so that we can continue to innovate.
Chances are, any Financial Advisor reading did not hear the term "Impact Investing" in college. We can see a future where impact investing classes are offered in all collegiate economics programs. This arena of investing is a new innovative methodology and there is a lot to learn. Advisors coming out of their educational institution and into the workforce will soon be experts in the impact arena. This is exciting as impact investing is grounded in innovation and will continue to evolve.
5. "We must build technology to make change. Many institutions invest money in these challenges, but most progress comes from productivity gains through innovation."
Impact Investing does not only refer to investments made in small companies with a grassroots feel but into large corporations that your clients have held stock in for years. Take General Electric (GE) for example. In 2012, GE invested $2 billion into research and development for Sustainability Innovation which generated over $25 billion in revenue, doubled clean tech investment, and decreased green house gas emissions and fresh water usage by 25%. Monetary investments can facilitate progress and innovation. There will be many opportunities to invest in technological innovations that solve a social, environmental, or governmental problem in the future, and opportunities like this may be a good way to get your more skeptical clients on board.
6.

"The Chan Zuckerberg Initiative [will] join people across the world to advance human potential and promote equality for all children in the next generation. Our initial areas of focus will be personalized learning, curing disease, connecting people and building strong communities."
Aligning your portfolios with companies like the Chan Zuckerberg Initiative, and any companies they partner with, will not only generate returns and enhance your portfolio, it will help advance the world in a beneficial way that will greatly better the lives of all generations to come. No one would say they want to leave the world in a worse situation than when they arrived.
7. "For your generation to live in a better world, there is so much more our generation can do."
You're an independent advisor, not a doctor, scientist, or humanitarian — is it too late for you to make a difference? It is not too late. The financial industry is always changing. Impact Investing provides the tools to invest more strategically and fund projects that aim to change the world for the better.
Impact Investing is a step in the right direction that any firm, advisor, or investor can and should adopt.
To read the full letter from Mark Zuckerberg and Priscilla Chen, click here, A letter to our daughter.
Interested in learning more about Impact Investing?
Click here to watch our Impact Videos
---
About Vanderbilt Financial Group: Founded in 1965 and located in Woodbury, NY, Vanderbilt Financial Group is an Independent Broker Dealer known as the Sustainable Broker Dealer committed to investing with purpose. The firm offers Impact Investments in socially and/or environmentally responsible, ethical, and impactful opportunities. In 2014 the firm was recognized with the MAP Vital Factors Solutions® Presidential Award for achieving excellence through implementing the MAP Management System™ and in 2015 became the first LEED Platinum office building on Long Island. Vanderbilt's refreshing, unique, and innovative culture is a driving force to constantly strive to positively impact their community. To learn more, check outhttp://joinvanderbilt.com/.