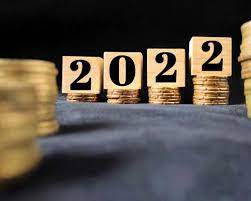 It's that time of year again. Were you satisfied with your financial health this past year? If you said no, here are some tips and tricks to help you turn it around.
Calculate your net worth
The New Year is a great time to find out your net worth. Once you know this information, you can assess your financial health and it's a great step in reaching your financial goals.
Look at your budget
Where did you spend your money this year? Check out your credit card statements and break down your expenses. If you need more money, you can consider taking on a side hustle or get a new job. The new year means new budgets for companies.
Improve your credit score
If you have a less than 700 credit score, you should make it a priority to improve it in 2022. You can improve your credit score by: paying off your debt, paying bills on time and fully, cutting back on your spending, and limiting the number of accounts you open.
Max out your retirement plans
Try to max out your contributions to your 401(k)s and IRAs. If you can't max the contributions try to at least contribute enough for a full company match for your 401(k).
Prepare for the unexpected
Life comes with all types of surprises, including financial. You should always be prepared for risks like an illness, losing a job, disability, death, natural disasters, or lawsuits. Insurance can help protect against unforeseen events that may be costly.
You do not need to do everything at once. Take your goals one step at a time and use your resolutions as a checklist. Better habits can help you improve your financial health. Happy New Year!
References:
Anderson, B. (2021, December 9). Most Americans Considering a Financial Resolution for 2022. 401K Specialist. https://401kspecialistmag.com/most-americans-considering-a-financial-resolution-for-2022/
Fox, M. (2021, December 1). Here's what you can do now to set yourself up for financial success in 2022. CNBC. https://www.cnbc.com/2021/12/01/how-to-set-yourself-up-for-financial-success-in-2022.html
Measom, C. (2021, December 13). 5 Financial Resolutions for 2022 That Will Actually Stick. GOBankingRates. https://www.gobankingrates.com/money/financial-planning/5-financial-resolutions-for-2022-that-will-actually-stick/
Schwartz, A. (2021, December 20). Financial New Year's Resolutions You Can Keep. Investopedia. https://www.investopedia.com/articles/pf/06/newyear.asp
White, A. (2019, December 31). 10 financial New Year's resolutions to set now and achieve in 2021. CNBC. https://www.cnbc.com/select/financial-new-years-resolutions/
Williams, G. (2021, November 8). 12 Financial New Year's Resolutions for 2022. U.S. News. https://money.usnews.com/money/personal-finance/saving-and-budgeting/slideshows/financial-new-years-resolutions?slide=5
Williams, R. (2021, December 17). New Year's Financial Resolutions: Get Your Finances in Shape for 2022. Schwab Brokerage. https://www.schwab.com/resource-center/insights/content/new-years-financial-resolutions-get-your-finances-in-shape
‌
Vanderbilt Financial Group is the marketing name for Vanderbilt Securities, LLC and its affiliates.
Securities offered through Vanderbilt Securities, LLC. Member FINRA, SIPC. Registered with MSRB.
Clearing agent: Fidelity Clearing & Custody Solutions
Advisory Services offered through Vanderbilt Advisory Services & Consolidated Portfolio Review. Clearing agents: Fidelity
Clearing & Custody Solutions, Charles Schwab & TD Ameritrade
Supervising Office: 125 Froehlich Farm Blvd, Woodbury, NY 11797 • 631-845-5100
For additional information on services, disclosures, fees, and conflicts of interest, please visit www.vanderbiltfg.com/disclosures