There is a lot of fear and confusion surrounding the massive Equifax data breach which has affected millions of Americans. We'd like to share our Chief Compliance Officer, Barry Champney's initial reaction to this breach which is relevant and helpful to both Financial Advisors and their clients.
Check out Barry's take below: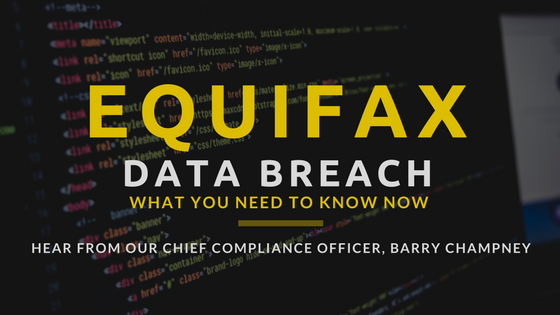 ---
A message from Vanderbilt Financial Group CCO, Barry Champney:
We have been monitoring last week's data breach at Equifax, and while the full impact has yet to be determined, there is a lot of misinformation floating around the internet and we want you to have the facts and understand your options.

First, A Few Facts:

The Social Security numbers and other Personally Identifiable Information of 143 Million Americans was compromised last week as the result of a data breach at Equifax, one of the Big 3 credit reporting bureaus.

While Equifax has set up a website to check whether you are affected by the hack, security researchers have discovered that this website is returning random results, and in addition, there is (probably illegal and unenforceable) language in the fine print of the terms of service that may disqualify you from participating in either of the class action lawsuits that have been filed so far.

While we are not attorneys and cannot provide legal advice, the very shady nature of this site, you should not rely on it. With an event of this scale, it is prudent to assume that you have been affected, and take meaningful steps to protect yourself while avoiding the scams that come with an event of this size.

Just Freeze

The first thing you have probably seen is an offer for credit monitoring services. We suggest that you not sign up for these, including Experian's "CreditLock" service, which is currently being marketed in response to the breach.

These services do not prevent fraudsters from opening fraudulent accounts in your name, or provide any service you cannot do yourself for cheaper. You have the right to request a Freeze on your credit, and unless you are in the process of buying a home, applying for a car loan, Home Equity line of Credit, or are otherwise actively using your credit (to open accounts, not using your credit cards or other existing lines of credit), we recommend that you do just this.

There may be fees associated with this service which vary by state, so here is a site with a breakdown of the fees that may affect you.

Why not just do a fraud alert?

There are a few reasons to go with a credit freeze over a fraud alert. Fraud alerts are not legally binding, and although companies are supposed to get in touch with you when a new account is opened, they are not required to. Additionally, a Fraud Alert is only good for 90 days, while a freeze remains on your file until you choose to remove it, which can be done with a phone call (they will give you a PIN during the setup of the freeze, which you'll be able to use to unfreeze your credit over the phone). You can learn more about a credit freeze here.

You should also request your free annual credit report, which you can do at www.annualcreditreport.com and verify that there isn't anything on your report that you don't recognize. We have also compiled a list of websites and phone numbers you can use to get your reports from places other than the big 3 credit reporting agencies, which you can see here.

Once you have done your annual credit report, we also recommend freezing your information at ChexSystems, an agency used by many in the financial services world to open new accounts. You can find out more information here.

More info from the New York Attorney General can be found here.
---
We hope Barry's message has been informative and helpful. Should you have any questions, please reach out to us and we will try to find answers to your questions where appropriate.
---
This content is property of Vanderbilt Financial Group and is not to be duplicated or redistributed without prior written consent. Not an offer, recommendation or solicitation to buy or sell. Further Information is available upon request.
About Vanderbilt Financial Group: Founded over 50 years ago in 1965 and located in Woodbury, NY, Vanderbilt Financial Group is the Entrepreneurial Broker Dealer known as the Sustainable Broker Dealer and RIA committed to investing with purpose. Vanderbilt is a full service Broker Dealer and Advisory firm with a focus on Impact Investing. Vanderbilt's refreshing, unique, and innovative culture is a driving force to constantly strive to positively impact their community.