Achieving excellence through implementing the MAP Management System within Vanderbilt Financial Group substantiates the 2014 MAP Vital Factors Solutions Presidential Award!
What is MAP?
MAP, or Management Action Program is an extremely successful performance improvement consulting firm. MAP calls themselves a "business transformation agent" that helps management teams develop alignment, focus, and growth. MAP has helped over 15,000 organizations and 170,000 leaders over their first 50 years, and Vanderbilt Financial Group is proud to be included in such successful community.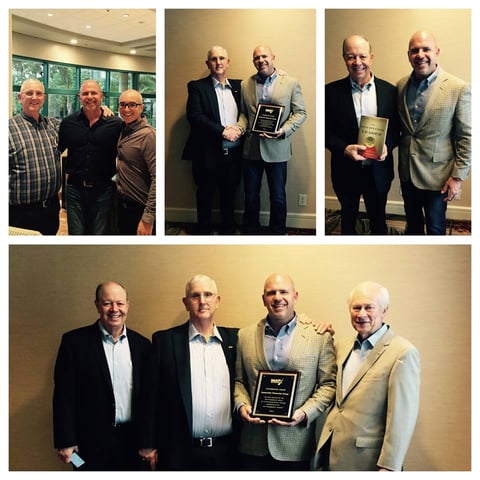 Pictured here is our CEO Steve Distante with MAP executives Lee Froschheiser Chairman, John Manning President and Randy Halle Former Chairman.
Things we love about MAP
MAP Vital Factors®

One of MAP's most brilliant tools is called Vital Factors. MAP explains that a company's vital factors are the most critical elements of the business that have potential success or failure. Your Vital Factors are the things that make or break you.

It is absolutely fundamental to clearly identify and define these elements with your management team to make sure you are all on the same page, which in turn will lead to success.

Early Warning Detection System

At Vanderbilt, we have seen the proof that MAP is a tried and true system that allows you to detect issues before they arise and prevent them from happening. Our CEO, Steve Distante says, "it acts as an early warning detection system for things that are going awry, and gives us a clear focus each and every month and each year of what we're looking to achieve."

Business Growth

Vanderbilt Financial Group has been a happy client of MAP consulting for 8 years. MAP helped us through the 2009 recession and helped the firm to grow better than ever, and here's the proof – "it's improved our bottom line by at least 40%, as well as our top line; gross numbers are up, our profit numbers are up, and we have a clear consistent business." In addition to helping our business grow fiscally, we have discovered new directions like our unique culture and passion for sustainability along the way, and we are a more well-oiled machine than ever. As Steve says, "we all have our oars in the water and rowing the same way".
Don't Miss the Mark
In 2014, Vanderbilt Financial Group was awarded the MAP Vital Factors Solutions® Presidential Award for achieving excellence through implementing the MAP Management System™. Our relationship with MAP has proven nothing but success and we've become huge endorsers of the company. Steve believes that any organization that has not adopted MAP Management System™ for their business is "missing the mark".
Click here for the Press Release:
http://blog.mapconsulting.com/?p=3201
---
About Vanderbilt Financial Group: Founded in 1965 and located in Woodbury, NY, Vanderbilt Financial Group is an Independent Broker Dealer known as the Sustainable Broker Dealer committed to investing with purpose. The firm offers Impact Investments in socially and/or environmentally responsible, ethical, and impactful opportunities. In 2014 the firm was recognized with the MAP Vital Factors Solutions® Presidential Award for achieving excellence through implementing the MAP Management System™ and in 2015 became the first LEED Platinum office building on Long Island. Vanderbilt's refreshing, unique, and innovative culture is a driving force to constantly strive to positively impact their community. To learn more, check out http://joinvanderbilt.com/.