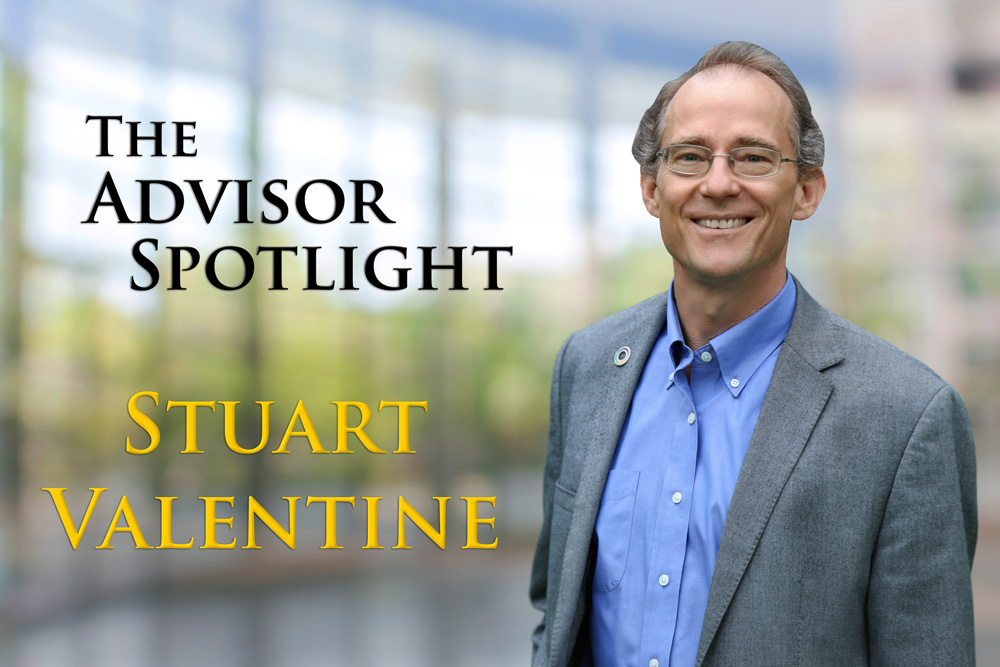 Each month Vanderbilt Financial Group features an advisor in the Vanderbilt family who exhibits the VFG values of Gratitude, Respect, Innovation, Teamwork and Trust on a consistent basis. These values impact their work with clients and VFG staff, and ultimately pushes for an excellence in their business practices that is unparalleled and incredibly unique. Beyond high-level producers, these advisors offer sage advice and best practices for boosting your business on your terms according to your values.
This month we're thrilled to be trying out a new format! We're turning these interviews into short-form podcasts. You have to start somewhere and we decided to start with Stuart Valentine, a VFG Financial Advisor whose practice, Centered Wealth focuses on connecting one's life-purpose with financial choices and investment portfolios. Below are the audio highlights from our interview. However, I found the content very meaty and decided to post the transcript not covered in the podcast below. It's long, but well-worth the read....
So, let's start at the beginning, maybe give a little information on your background, and maybe your journey into the financial services industry.
It was not a straight path. Going through my educational journey was such that I actually graduated with an undergraduate degree in Renewable Energy Systems, Utility Law, and Policy. I was groomed at Evergreen State College to go to work in the State's Government and Utility Policy Development on how to implement renewable energy on a regional-wide base in the Pacific Northwest. It rapidly became clear that I didn't understand markets, and I ended up in an MBA degree out here in Fairfield, Iowa, at the Maharishi University of Management. I had recently learned Transcendental Meditation and Fairfield is home to the Transcendental Meditation scene. Maharishi University of Management integrates meditation into an otherwise traditional curriculum. While I was there I did discover the markets, I got very interested in the deregulation of the gas, natural gas, the pipeline industry. I got involved in renewable energy planning. I came out of college with $40,000 of student loan debt, and I said "I've gotta go get a job". With that, I jumped right into trading options on the newly listed natural gas and oil contracts. Within two years, my partner and I founded a futures trading firm called Crown Futures. For thirteen years, I just exclusively traded options in futures and the global energy market, currencies, commodities, bonds, and stock indexes. So, that gave me a very good global capital flow understanding, how the sort of levers and gears of the global capital market work.
Along the way, I met the founder of Progressive Asset Management, at the 1998 SRI in the Rockies Conference, Eric Leenson, the CEO and Co-Founder, was a key mentor for me. Over about a year, he further helped me get the picture of how to expand my expertise into the SRI-driven Wealth Management business. So, in year 2000, I became a Series 7 Registered Rep of Progressive Asset Management. Here I am now - it's been a 32 year journey.
Talk about some of the books and authors and other thought leaders that are shaping how you think currently and in the past.
Well, I love that question because it takes me back to really key moments in my development. There was a key moment in my undergraduate degree at Evergreen, (1982), where I read Fritjof Capra's The Tao of Physics. I had just started meditating, so I became sort of immersed in the correlation of the Quantum Physics that were emerging in the popular books such as The Tao of Physics, and its correlation to human consciousness. That book was a really important turning point for me. Right in the same year, I read Hazel Henderson's first book, titled The Politics of the Solar Age. I was custom-building a degree in renewable energy, so this book was really important for me. And, it was quite magical that twenty-one years later, she became a client. Now she's been a key friend and mentor for me for 14 years. So, from early days shaping my thinking about the future of energy policy and renewable energy, to then have her play such as key mentor and professional relationship with her, was really fulfilling.
It was Jed Emerson and his most recent book The Purpose of Capital which I think every advisor should read. I think you should send it to every advisor whether they call themselves impact or not. Because one of the failures of our industry, in my opinion, is that we fail to critically examine the "why". Why are we doing this? Why are we driving this emphasis on growth, growth, growth, more and more and more, without taking into consideration the well-being and the experience of the actual investor themselves? Do those investments really connect to their higher purpose?
Talk about your areas of specialty with your clients and why is that important to your practice?
I think at my core I'm a good teacher. Thanks to people like Amory Lovins and Hazel Henderson and Fritjof Capra. The combination of my willingness to step back and deliver the big picture, the vision, the context, and then use standard teaching skills to lead the client to understanding what is coming down the path and what sorts of investments are likely to do well in what I call the near future. If you are too far out in the future, the investments aren't well organized enough, but we can bring it back to the near future and see the trends.
This is a good example right here, the program we are using to interview: Zoom. Look at what we know about the climate crisis. We are going to have to adjust our behavior. It's a lot easier for me to be on Zoom with you than to jet out to New York. It used to be "I need to go to New York to do an interview." No longer. We can be working on this remotely. This is a really good example of the technologies that I think we need to lead our clients towards. This is where we do the early stage investment in new companies.
What is some advice you'd give to young financial advisors who are just getting into impact investing?
The most important advice I could give to somebody is first get your basic understanding about how the belly of the beast operates, but then seek mentors that are on the cutting edge of the transformation. The shifts in psychology, and the shift in the sort of economic models underway, are quite dramatic.
I'm very actively engaged with mentors who, for whom I am inspired by their written material, I do not hesitate to reach out and develop a relationship with that author. First, they are flattered to get feedback that somebody really cares about what they wrote. And second, with good dynamic relationship building, I get involved with them, I collaborate with them on projects.
I mainly got this principal from Hazel Henderson. She has always built her practice on what she calls "harnessing the power of networks". We are the most networked culture in the history of humanity thanks to the Internet. Get involved with little tribes or user groups, networks of people that hold your vision or share your vision of possibilities. The beauty of being human is that we have foresight and we have the ability to manifest our aspirations. So, get involved in manifesting your highest ideals with others who share those ideals. Boy-oh-boy those types of clients are as loyal as they get. You will have steady referrals as a result. That's the key of this: you develop relationships. People believe in you. You believe in them. It's not a one-way source of referrals. You're also putting that thought leader or author in touch with individuals or organizations that serve their mission. So, it's a two-way relational dynamic.
---

Jeso O'Neill is a season marketing and communications professional with a passion for sustainability. As the Director of Communications at Vanderbilt Financial Group, she has the pleasure of working with a variety of dedicated advisors and staff looking to make a difference in the world through impact investing.