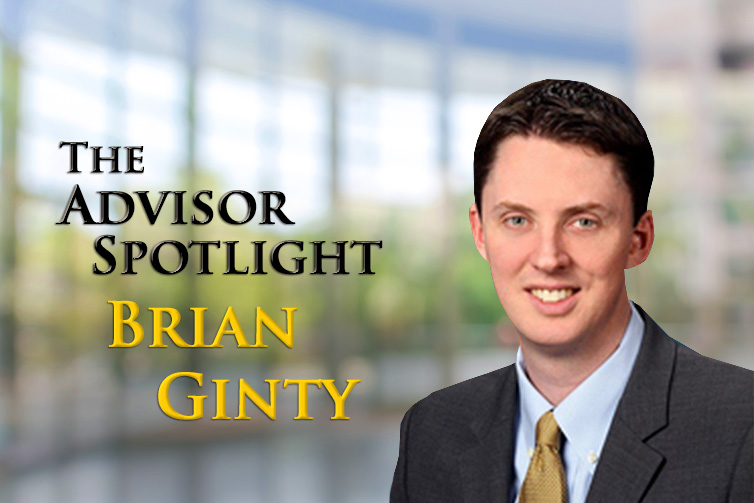 Each month Vanderbilt Financial Group features an Advisor in the Vanderbilt family who exhibits the VFG values of Gratitude, Respect, Innovation, Teamwork and Trust on a consistent basis. These values impact their work with clients and VFG staff, and ultimately pushes for an excellence in their business practices that is unparalleled and incredibly unique. Beyond high-level producers, these Advisors offer sage advice and best practices for boosting your business on your terms according to your values.
This month I spoke to Brian Ginty of Hudson Valley Financial Services. We chatted about the transformation of technology on the trading desk. Brian laid out some sage pieces of advice for young Financial Advisors just building up their book.
Listen in on the audio version below or continue on to read the transcript.
So, let's start at the beginning, maybe give a little information on your background, and maybe your journey into the financial services industry.
I didn't initially have this as my career plan. I started out as an engineering major in college, aerospace engineering, to be exact. I quickly realized that this was not a good career path for me. I was looking at a bunch of different options in college and stumbled into finance and everything just clicked. It's just finance just made perfect sense to me. I spent a couple of years working in lower Manhattan on a trading desk before transitioning to be a Financial Advisor. That was 18 years ago. My last day of working in lower Manhattan just happened to be a week before 9/11. It was an odd timing for the transition and not a great time to be a Financial Advisor. I've been doing it for 18 years now. I couldn't really imagine doing anything else. I feel very fortunate that finance is just something that clicked with me. I feel very passionate about it. Not only that I feel really strongly about and I enjoy but something that does offer longevity. I can do this job well into my 70s. I know several Financial Advisors who do that.
I started looking at the trading industry as a whole when the stock market went to decimals. They used to trade stocks in fractions. So, the traders profit was essentially the spread, which was measured in a fraction. 30, 40 years ago, that spread may have been a 1/4 per share, and then it went to 1/16, and then it went to a 1/32. And then, it went to a penny. The profit was shrinking dramatically in the trading industry. Now counterbalancing that was the increase in volume, but then the volume started going away. The volume was being pushed more and more, especially on the institutional side towards automated trading platforms. Back in 1999 and early parts of 2000, watching more and more of that order flow going away from physical traders and going to automated platforms, you started looking at getting the lay of the land. Fortunately, I hadn't been there long enough to have achieved a lot of success. I didn't have a house with a mortgage or a wife, three kids, or people relying on me. I said "If I'm ever going to make this transition, it's going to have to be now. I won't be able to make this transition 10 years down the road." I just made the decision that something was going to change in this career path. That's exactly what happened. The largest trading desk in the United States was Paine Webber up in Connecticut. Look online and see how much of that space they currently occupy. It's a very small fraction. The number of overall traders has shrunk dramatically in the last 15 to 18 years. And who knows if there are going to be physical traders in 10 to 15 more.
Talk about some of the books and authors and other thought leaders that are shaping how you think currently and in the past.
There's Michael Lewis. He started out as a bond trader in Manhattan back in the 80s. He's written a lot of really good books. He wrote a book called Liar's Poker, which was a funny and interesting book about being a bond trader. He then wrote a book that they turned into a movie called The Big Short. That really went in depth into the 2008 crash. He wrote another book about the flash crash and different countries that went down the tubes in 2008, 2009, and some of the background behind it.
Talk about your areas of specialty with your clients and why is that important to your practice?
I like working one on one with people. I've done some small business retirement planning but I've mostly focused on working with people one on one. I enjoy all aspects of it. The young one right out of college is eager to get started on planning and saving for the future. I try to teach them the right way to do it and what to invest in and what to avoid. But then on the other end of the spectrum, I really like working with older folks. They've done all their planning and saving and everything else. Now it's just about managing it for the future. Making a plan to leave it to their heirs - making sure that not only are they protecting themselves but they're also passing on money to their next of kin. I really enjoy both aspects of it. The older crowd is obviously the more complicated because it comes into a lot more layering of estate planning. And typically, the numbers are larger.
If you could offer a piece of advice to a young Financial Advisor just starting out what would it be?
There are times that it's going to feel impossible. There are times especially when you're first starting out, you're barely going to make any money. You're not going to be able to support yourself. Just stick with it. That's the hardest thing to overcome. That's what drives most young Advisors out of the business because they just don't see the end game. They can't see they'll the long road. "I'm not making enough money. My friends are all making more money than I am now because they're five years into their career and they're all doing so much better." Just don't give up.
There was a really interesting speech that I had heard four or five years ago. The guy who put the first bullets into Bin Laden was in the Navy SEAL Team Six. His name was Robert O'Neill (editors note: Brian mistakenly says O'Brien). I happened to see one of his speeches. He does inspirational speeches around the country. He told me something that I thought was really interesting. It was something that had been told to him when he was in Navy SEAL training. I think that the fail rate in Navy SEAL training is something like 80 percent. Only like 10 or 20 percent of Navy SEALs make it from beginning to end to become Navy SEALs. He was young and struggling going through training. This guy could not swim. He was from Iowa or something. This Navy SEAL instructors said to him "Look. You're going to want to quit like almost every day that you're here. Just don't do it today. Just put off quitting till tomorrow. Wait one night. Sleep on it. If you still want to quit tomorrow, you can quit tomorrow. Wait and make it one more day." I pass that advice on to young Financial Advisors. There's going to be a lot of times that you're going to want to quit doing this and you're going to question why you ever got into this business when you're seeing your friends making more money in their career or they seem to be doing better. Trust me. Stay with it. Don't quit. It's a much better long-term career option than almost anything else your friends are probably doing.
---

Jeso O'Neill is a seasoned marketing and communications professional with a passion for sustainability. As the Director of Communications at Vanderbilt Financial Group, she has the pleasure of working with a variety of dedicated Advisors and staff looking to make a difference in the world through impact investing.